Drive With Confidence With Commercial Car Insurance
Commercial vehicle insurance is required by law in Singapore, but that doesn't mean that you should only buy the minimum coverage just because you have to. Traffic accidents happen every day, making car insurance a critical protection for businesses. Although insurers have limited control over the frequency and severity of accidents, they play a key role in protecting drivers against financial loss resulting from claims filed after a crash.
What is Commercial Car Insurance?
Commercial car insurance protects your business against being sued in the event you or your employees are involved in a traffic accident. 
Commercial vehicle insurance for corporate or private hire cars like GrabCar is especially crucial for protecting the interests of businesses. Private hire and company car drivers can also benefit from these policies as they might be held liable for repairs or medical costs for the other driver should they be involved in an accident. Commercial car insurance can protect and save them from huge expenses. 
There are various other important reasons to have it, and we'll give you the full rundown on car insurance for private hire vehicles.
Benefits of Commercial Car Insurance
Commercial car insurance commonly offers both liability and collision benefits, which safeguard your business financially in the event your private hire or corporate car drivers cause any damage to any other vehicle or property.
Liability Coverage
Liability coverage provides financial protection for a driver who harms someone else or their property while operating a vehicle. It only covers injuries or damages to third parties and their properties and not to the driver and the driver's property.
Collision Coverage
Collision coverage reimburses the insured driver for damage sustained to their vehicle due to the fault of the insured. This only applies to damage from a collision, and not from damage due to theft or vandalism.
Commercial car insurance also includes a wide range of other benefits, such as coverage for:
Medical payments or personal injury claims resulting from an accident
Damages related to theft, vandalism or natural disasters
Damages caused by uninsured drivers or underinsured drivers
Rental vehicles used to transport employees or clients
Employee vehicles used for business purposes
Types of Commercial Car Insurance
If your business operations rely heavily on transportation vehicles, it is important to know what kind of commercial car insurance you need. There are several things to consider when looking for a policy best suited to your needs, like the type of vehicle and its weight, how you typically use the vehicle and what coverage your insurance policy offers. Protect your commercial vehicle with our selection of:
Third Party Only (TPO) Car Insurance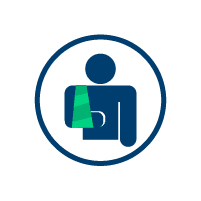 Next, there is Third Party Only (TPO) car insurance. As the cheapest and most basic car insurance, it only covers damage to other people or their property. In the unfortunate circumstance that anything happens to your car, you will have to bear the full costs yourself.
For new drivers with old cars (cars at the end of their COE lifespan) and are looking for something more budget-friendly, this might be the plan for you. This is because there may be more value in scrapping the car instead of sending it for repairs. Hence, you only need a plan covering damage to third-party vehicles or properties.
Third Party, Fire And Theft Car Insurance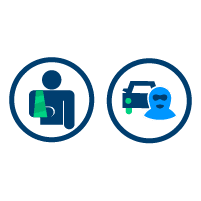 Our final policy type is a slightly different and enhanced version of TPO car insurance, Third Party, Fire & Theft (TPFT) car insurance. It shares many features of TPO policies, but on top of that, TPFT further provides coverage of loss, theft and fire damage to your car. While it does provide considerably more protection, it is still recommended as an option for those with older cars.
Although it may be a more affordable option, it will not cover any damages to your car and can lead to hefty damages for new drivers who get into accidents. Consider Etiqa's TPO & TPFT plan for cheaper car insurance premiums and their brand new usage-based feature "Drive Less, Save More" (DLSM) that offers you up to 30% cash rebates of your premium.
Comprehensive Car Insurance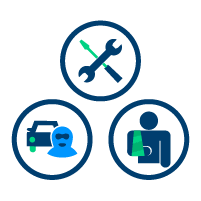 Firstly, there is comprehensive car insurance. The policies under this category cover most costs incurred, such as your car's repairs and replacement costs. With its wide range of coverage, it is the most popular car insurance type in Singapore. This plan is probably also the safest option among all, if you want to ensure that most costs related to any damage to the car are covered.
One of the best options under this category is FWD's car insurance, which offers extended legal liability cover for accidentally hurting someone or damaging property, and overseas coverage for driving in West Malaysia and parts of Thailand. On top of that, it also comes with a lifetime 50% No Claims Discount (NCD) guarantee.
How Much Is Commercial Car Insurance in Singapore?
The price varies depending on what your car insurance policy covers, but drivers looking to insure their commercial vehicles can quote your preferred insurance company an amount within your budget. Private hire cars can opt for more comprehensive coverage as they can be held accountable for any bodily injuries and the death of their passengers.
Comparing Commercial Car Insurance Prices in Singapore
Commercial car insurance policies are typically more costly than personal car insurance policies because businesses risk higher liability and property damage claims when transporting people or goods for business purposes. However, there are several ways to ensure that your chosen policy is worth the investment. When comparing car insurance policies for your commercial vehicles, these are some things to consider:
Switching to usage-based insurance (UBI)
Check for the types of exclusions regarding payout for damage beyond repair
Enquire about round-the-clock roadside and medical assistance in case of emergencies
Check for loss of use, low no claim discount (NCD) as well as free NCD protector benefits
Check for the inclusion of personal accident coverage
Insure Your Commercial Car with MoneySmart
MoneySmart's car insurance policies offer a wide range of choices and we are partnered with major car insurance providers to give you solutions that are specially tailored to all your business needs. Fill in your details to find out which commercial car insurance policy fits you best.
Frequently Asked Questions About Commercial Car Insurance
What Is the Difference Between Commercial and Personal Car Insurance?

Commercial and personal car insurance serve two different purposes. While both can be used as financial protection against bodily injury or physical damage to property, each has different coverage limits and deductibles. When you're looking for personal car insurance, you want to make sure that if something happens to your car when someone else is using it, they will be able to help pay for repairs. With commercial car insurance, your focus is protecting your business against loss when people drive commercial vehicles like delivery trucks or private hire cars.

Is Commercial Car Insurance the Same as Private?

Both types protect you from financial loss if someone else damages your car or vehicle while you are using it. However, private insurance covers liability for personal injury caused by others' negligence such as driving without proper license or registration, or failing to look both ways before crossing streets, whereas commercial coverage does not.